DWSTW
Photography Mayu Kinamori
Paddington Reservoir Gardens is bounded by Oxford Street opposite Underwood Street and Perry Lane, Paddington.
The gardens incorporate the former Paddington Reservoir, which is on the NSW State Heritage Register. The reservoir was part of Sydney's third water supply system, and was designed to contain water pumped from Lords Dam at Botany Bay which had been built in 1815.
The Paddington Reservoir was the high level reservoir which worked in tandem with the low level reservoir in Crown Street, Surry Hills, both designed in 1857. Crown Street was finished in 1860 but work did not begin on the Paddington Reservoir until 1864 and it was completed in 1866. Ten years later the reservoir was enlarged at the eastern end creating a total capacity of 2 million gallons (9,092 megalitres) with a dimension of 33 metres long, 31 metres wide, and a water depth of 5 metres.
Paddington Reservoir operated between 1878 and 1899 when the Centennial Park Reservoir was commissioned. After it closed in 1899 Paddington Reservoir was used for storage by the Water Board, and from 1914 to 1934 it housed the Board's garage and workshop. The reservoir was sold to Paddington Municipal Council in 1934 which leased the western chamber for a service station while the eastern chamber was still occupied by the Water Board until the later 1950s. The service station continued to operate under various lessees until 1990 when the roof collapsed. Since then the reservoir has been closed off and unused, with a further roof collapse occurring in 1993.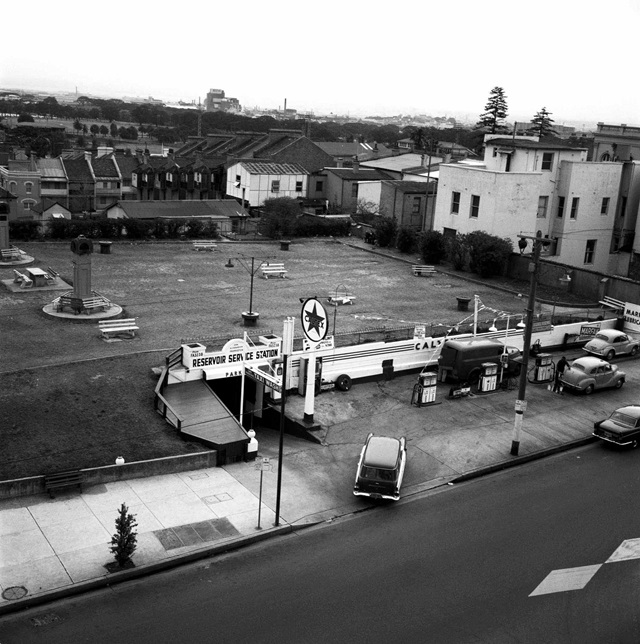 Walter Read Reserve was established on the roof of the Paddington Reservoir in 1953. Walter Read was an alderman of Paddington Council 1937-1948 and Mayor in 1942, 1947 and 1948. The adjoining John Thompson Reserve, opened in 1976 on the former Grand View Hotel site, is named after one of the founders of the Paddington Society. Both reserves provide open space in the Paddington civic precinct which includes the Town Hall, Post Office and Juniper Hall (1824).
Paddington Reservoir Gardens, incorporating both the Walter Read Reserve and John Thompson Reserve, opened in 2009 following major restoration and landscaping. The gardens include a community facility within the renovated former reservoir.